Your Life. Your Business.
Your One-Stop Legal Team.

Navigate Your New Jersey, Florida and Multi-State Legal Matters with Confidence.
We deliver the effective legal services you need today and tomorrow. Work with Conte, Clayton and Austin and gain a strategic advisor and tireless advocate who will go the extra mile for you, your family and your business year after year.
We are a team of business, estate and litigation attorneys with years of experience assisting individuals  and businesses with their New Jersey and Florida legal matters. With offices in both states, and leveraging an elite network of subject matter experts, we are uniquely positioned to offer the holistic, long-term support that makes life's ongoing changes as smooth as possible.
Whether you are starting a business, purchasing a home, protecting your assets or administering a loved one's estate, our legal solutions team works hard so you can rest at ease.
Our core areas of practice include:
We believe you should never need to choose between quality and efficiency when it comes to your legal advisor.
After working with Conte Clayton & Austin, our clients believe it too.
Our lasting client relationships speak to an approach that focuses on real connections, real budgets and real results. We combine large-firm capabilities with a flexible, cost-effective business model, allowing us to meet the full range of our clients' legal needs while maintaining one-to-one service.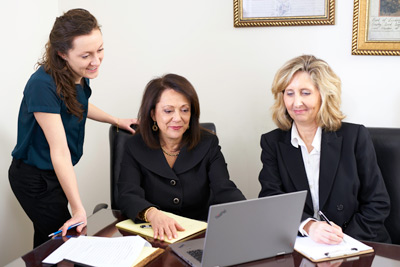 Let's get the job done, together.
We would be happy to discuss how we can provide you with the quality legal services you deserve.