A Trusted Advocate for Businesses and Employees
We are proud to help our clients understand and protect their rights in the workplace.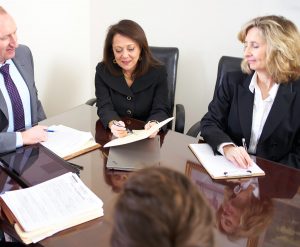 Employment Law Services
The employer-employee relationship is grounded in mutual trust that both parties will act in good faith and perform the duties expected of them. When this trust is broken, however, it is your right to seek counsel and our privilege to help you. With years of experience representing both businesses and employees, we will serve as a trusted advisor, helping prevent, and when necessary, resolve work-related legal issues.
We help our business clients develop proactive strategies for minimizing risk and liability. We provide counsel on employment practices and compliance, navigation of hiring and terminations, and other routine matters. Should your business need to defend itself against unwarranted claims, intellectual property theft or other issues, we stand ready to support you through vigorous litigation.
For employees, we provide representation in negotiating employment contracts and severance packages, as well as lawsuits involving discrimination, wage issues, sexual harassment, wrongful termination, whistleblower issues and other disputes. We also assist commission-based employees and independent sales contractors in the recovery of unpaid
We will help protect your rights as an employer or employee.